Services
Call today for a quote!!!  (210) 684-6493
When you come to Braundera for lumber you will not find any carts to push around the yard while searching for items.  Our friendly and knowledgeable staff will pull and load the lumber into your vehicle for you.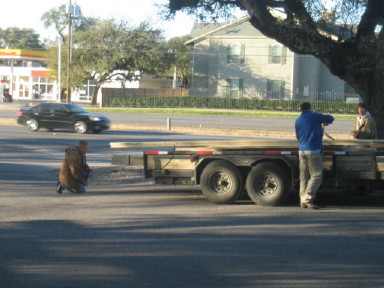 Braundera also offers will call service.  If you would like to call, fax, or email in a list, we are happy to have orders pulled in advance and ready for pickup.  Your order can be banded together and loaded onto your trailer by an experienced forklift operator.
We also offer delivery service to anywhere in San Antonio and the surrounding areas.  Deliveries are scheduled on a first-come first-serve basis, so call in advance to schedule your delivery.
If you would like some help with your lumber take-off, our sales staff is happy to sit with you and work out a material list for your project.  All you need is an idea of size and design for your project and we can help with the rest.  If you already have a list and just need prices, please call, fax, or email your list over and let us quote you.  You will be pleasantly surprised to find that this excellent service comes with a most competitive price.
We are also the ones to call for those hard to find items.  Whether it is lumber, hardware, tool, or paint related, we are happy to check on availability and give you a price for special orders.  I am always amazed at a customer's reaction when we offer to look for an item they cannot find.  We feel that taking the time to help a person with something hard to find will earn their business in the future, so we are glad to do it.
When you are ready to start that do-it-yourself project and discover that you need a tool you do not have, or you have a tool break in the middle of a job, check with us.  We keep a good selection of general construction tools for rent.  Tools include:  Demolition Hammers and Rotary Hammers,  Palm and Belt Sanders, Floor Sander, Quikdrive Screwgun, Pressure Washer, Nailers, Recipricating Saw, and more.