PPG Proluxe
(formerly known as Sikkens)
Sikkens is the largest manufacturer in the world of high quality wood finishes.  Their products come in a wide range of translucent, semi-transparent, and solid finishes.
For the longest lasting translucent siding finish we offer the three coat system made up of Cetol 1 and Cetol 23 Plus.  It is available in eight natural wood tone colors.  The combination of these two products offers the protection of a penetrating oil with Cetol 1 along with the durability and beauty of a film building finish with Cetol 23 Plus.  You will be amazed at the look that this product will achieve along with the reduction of maintenance the it will provide in the future.
Cetol DEK Finish is a luxurious translucent finish that extends the look and feel of hardwood flooring to exterior living spaces. DEK Finish is to be used as a two coat system on all 6 sides of the board for an ultimate long lasting finish.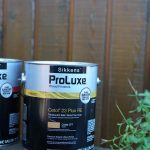 You will also find the top-rated one coat finish Cetol SRD here in the store. For a deck stain it cannot be beat. It is available in eight pre-mixed colors.
Sikkens also offers Cetol Door and Window, which is the only exterior clear coat finish formulated not to crack & peel. It comes in Gloss and Satin. The Satin finish is also offered in four pre-mixed colors, available in quarts only.
Other products we keep include Rubbol Solid DEK, Cetol UV Interior, and Cetol BL Interior.
Superdeck offers a large array of wood finishes and cleaning products.  We stock their 1900 Transparent Stain, the tintable Semi-Transparent Series, and the Deck and Dock elastomeric coating.  These products offer a large array of natural color choices ranging from almost totally clear to vibrant semi-transparent colors that can achieve a variety of looks, plus the Deck and Dock can breath life into an old weathered deck to extend it's life.
Superdeck also manufactures a selection of high quality cleaning and stripping products.  The three products that we stock are the Wood Cleaner, Wood Brightener, and Wood Stripper.  All three are user friendly and biodegradable.