Cable Rail System by

Atlantis Rail Systems offers a stainless steel cable rail system that is attractive and durable, as well as, simple to install.  The Rail Easy system incorporates easy to use components and a simple 3 step installation. Click on the image below to see the installation instructions.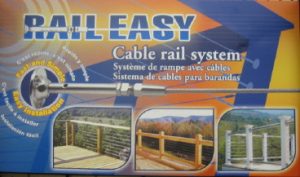 Decorative Balusters by

Deckorators and Solutions offer a variety of designs for any style or taste.  The powder coated aluminum means none of the upkeep that comes with traditional 2″ x 2″ wooden balusters.  You will still be able to achieve that traditional look with the Classic Balusters, which are available in stock in five different colors.  Installation is made simple with either the hidden or decorative connectors.  If you are looking for something more elegant, we also keep the Architectural Balusters in both styles and colors.    The rail connectors also make attaching the rails to the posts a breeze.
Deckorators offers options that we do not stock, such as the Colonial, Scenic, and Traditional balusters, which we are glad to special order.